(Bloomberg) — U.S. President Donald Trump signaled he may not sign a $900 billion coronavirus relief package just one day after Congress passed it with bipartisan support.
Germany's virus deaths rose by 986, the most since the start of the pandemic.
The new Covid-19 strain that emerged in the U.K. is possibly already in the U.S., Germany, France and Switzerland, officials in those countries said. A wider swath of the U.K. would be ordered into a more-severe lockdown under a plan being considered by government officials. South Korea and the Philippines moved to temporarily suspend U.K. flights, while Japan is strengthening entry regulations for people traveling from the country.
Pfizer Inc. is getting closer to finalizing a deal to supply the U.S. government with as many as 100 million more doses of the drugmaker's coronavirus vaccine, according to a person familiar with the matter. Its partner BioNTech SE's chief executive officer said the shot will probably work against the new virus strain.
Subscribe to a daily update on the virus from Bloomberg's Prognosis team here. Click CVID on the terminal for global data on coronavirus cases and deaths.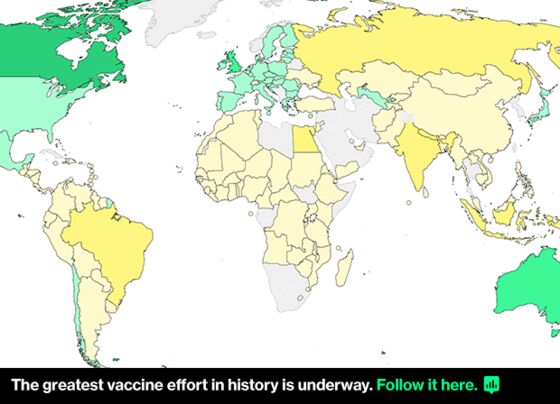 German Virus Deaths at Record High (2:16 p.m. HK)
Germany reported a record 986 coronavirus deaths in the 24 hours through Wednesday morning, and cases jumped by 36,153, the second-biggest gain since the start of the pandemic.
The number of new infections took the total to 1.57 million, while fatalities climbed above 28,000, according to data from Johns Hopkins University. The seven-day incidence rate has risen sharply in recent weeks and is at 195 per 100,000 inhabitants, close to a record, according to the RKI public health institute. Officials have said the rate needs to come down to 50 per 100,000 and stay there.
Germany aims to start vaccinating against the virus on Dec. 27, with the very elderly and staff in care homes first in line.
Singapore Airlines Trials Digital Verification of Covid Tests, Vaccinations (12:26 p.m. HK)
Singapore Airlines Ltd. has started trials on a new digital verification process that offers customers the ability to store and present information related to their coronavirus tests or vaccination status.
The verification process will be the first in the world to be based on the International Air Transport Association's Travel Pass framework.
Dubai to Offer Free Pfizer-BioNTech Shots From Wednesday (12:23 p.m. HK)
Dubai is starting a free vaccination campaign from Wednesday using the coronavirus vaccine developed by Pfizer and BioNTech.
Beijing Says Almost 12,000 People Tested Negative (10:49 a.m. HK)
All 11,993 people in the Chaoyang district of China's capital tested for Covid-19 as of noon Monday were found to be free of the virus, according to a statement from the local government. That came after Beijing reported on Dec. 19 that two new local virus infections were linked to imported cases.
Asian Countries Suspend U.K. Flights, Strengthen Entry Regulations (10:25 a.m. HK)
South Korea is suspending flights to and from the U.K. from Wednesday through Dec. 31, while the Philippines will halt U.K. flights from Thursday through Dec. 31 on concern about the new virus variant.
Japan will strengthen its entry regulations for travelers from the U.K. starting Thursday. New entry by foreigners traveling from the country won't be allowed. Foreign nationals returning from the U.K. who are residents of Japan will be required to isolate for two weeks.
Returning Japanese citizens will need to provide proof of a negative virus test conducted 72 hours before departure. Those who fail to do so will be asked to quarantine for two weeks at a facility…


Read More: Trump Criticizes Covid Package; Pfizer Shot Supply: Virus Update