Then and now: Hambantota International Port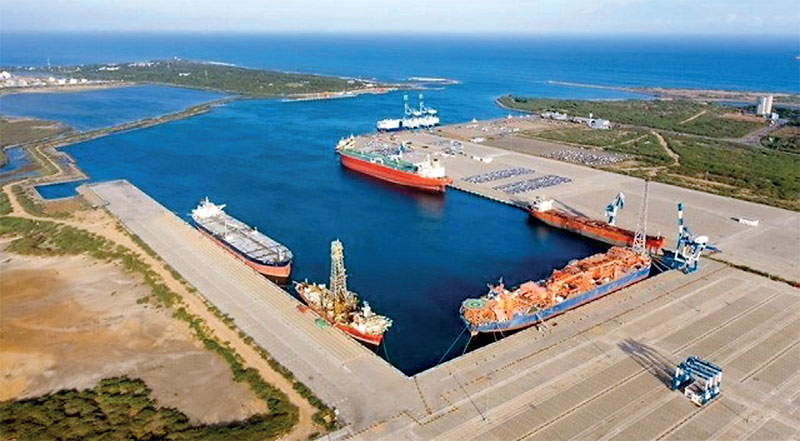 ---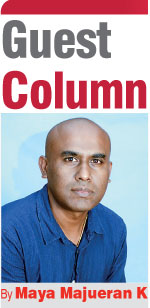 The Hambantota International Port (HIP)
 The Hambantota International Port (HIP) is a deep-water port being developed in phases in Hambantota, southern Sri Lanka. This port is located 10 nautical miles to the major international east-west shipping route – the Suez Canal and the Strait of Malacca and well positioned at a strategic location on the maritime gateway to India. Generally, per day about 300 ships pass this route and creates good business opportunities for providing services such as refuelling, crew change, maintenance, logistics and buying provisions and medical supplies
 The Hambantota port is constructed by the Sri Lankan Port Authority and mostly funded by the Export-Import Bank of China. China has lent $361 million for the first phase of the Hambantota port and another $810 million has been given for the second phase of the construction. Construction works primarily carried out by China Harbour Engineering Company (CHEC) and another Chinese state-owned firm, Sinohydro Corporation. Phase 1 of the Hambantota Port was completed in December 2011 and has commenced operation since June 2012. Construction works for Phase 2 was completed in April 2015.
 Hambantota Port is a comprehensive deep-water port, the Hambantota Port project is a project to develop a major industrial and service port with an attached industrial zone in the Port of Hambantota and it is currently expected that the project will comprise three phases. With 10 berths in Phase 1 and 2, and quay length of up to 3,487 meters; the berths are specialized to handle containers, bulk cargos, general cargos, RO-RO cargos and liquid bulk. Water depth alongside the quay and navigation channel is -17 meters, which makes Hambantota Port a deep-water port capable of handling super-mega vessels. Hambantota Port has great potential for future expansion, with its hinterland covering the South Asian region, and as a maritime hub in the region.
 The Hambantota port is being built to relieve pressure on the Colombo port, which alone handles 6,000 vessels a year, including several cruise liners. The port was never meant to replace or directly compete with Colombo. 
 Sri Lanka Ports Authority (SLPA) operated the Hambantota port from 2012 to the end of 2016, but it failed to meet profitability due to inadequate governance, lack of commercial and industrial activities, and its inability to attract passing vessels to dock at the port. Likewise, the bunkering business failed to take off due to SLPA not having a strategic international partner. Hambantota port was unable to generate sufficient revenue to meet its loan obligations taken to construct the port.  
China Merchants Port Holdings Company Limited (CMPort)
As a result, in July 2017, Sri Lanka's cabinet of ministers took a decision to sign a concession agreement with China Merchants Port Holdings Company Limited (CMPort) to operate the Hambantota Port along with 1,235 acres of land as a Private Public Partnership (PPP) project on a 99-year lease.  On 9 December 2017, two Sri Lankan companies established under the concession agreement, namely, Hambantota International Port Group (HIPG) and Hambantota International Port Services Co. Ltd. (HIPS) officially took over the Hambantota Port, with a payment of US$1.12 billion, for the acquisition of 85 percent stake of HIPG and 58 percent stake of HIPS. The remaining percent of the stake of HIPG and HIPS are owned by the SLPA. At the time of entering into the lease agreement, Hambantota Port was valued at $1.4 billion. The PPP is not a debt-equity swap but fresh investment by China Merchants Port Holdings Co. After undertaking the Hambantota port, CMPort ffurther invested in restructuring, and transformed it to be a commercially viable national asset in collaboration with the SLPA.
 CMPort's parent company, China Merchants Group Limited, is a Hong Kong based conglomerate established in 1872 whose three core businesses include Transportation,…


Read More: Then and now: Hambantota International Port