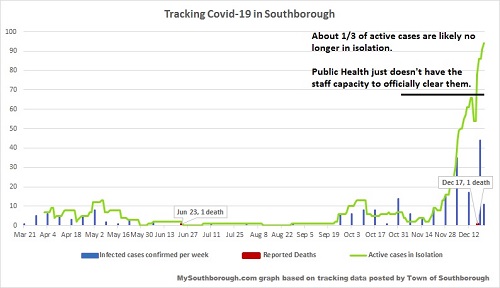 The Board of Health's agenda for last Friday contained an item particularly troubling during a pandemic, "Staffing crisis at Health Department".
On December 2nd, BOH members warned Advisory that its staff was overworked and near a breaking point. It appears that point was reached for at least one of them.
In the Friday meeting in which she referred to Southborough's cases as "exploding", the Public Health Nurse was confirmed to be resigning. Also resigning is the longtime Public Health Director. (Though he will still support the department in a limited capacity.) On top of that, the Board is losing current members this spring – possibly all of them.
The Board of Health is now attempting to hire a part-time interim Public Health Director to oversee the department starting in January. That includes Southborough's Covid contact tracing and case management program. Unfortunately, funding limits/restrictions and confusion over a Town Counsel opinion have complicated attempts. Adding to Board woes are tensions with the Advisory Committee.
One bright spot. . . the Board is applying to hold a Covid-19 Vaccine Clinic for vulnerable residents. (The topic has been a sore spot between Advisory and BOH.)
Staffing Issues
Recently, BOH members told Advisory that the Health Dept is something people don't want to invest in when things are good. The work is mainly invisible unless something goes wrong. Then when a catastrophe hits, the bare bones budget and minimal staffing leaves the dept struggling to meet needs. 
This summer, the Board discussed pushing for a more robustly staffed model. Their proposed budget would change the Public Health Director and Administrative Assistant from part-time to full-time. It would also add a full-time Public Health Nurse while keeping the part-time nurse.
The vision extends beyond the Covid pandemic. BOH Chair Mary Lou Woodford told Advisory that Covid shone a light on gaps already there. As the Town reduced Public Health services over time, needs have increased (e.g., more communicable diseases, tick borne illnesses, and a host of others.) Issues that Southborough needs to deal with include emergency preparedness documents and plans that are out of date. 
Responding to state guidance on responsibilities, the Board wants to pursue Public Health Agency accreditation. Current Public Health Director Paul Pisinski's expertise is in environmental health. The BOH is looking to hire someone with public health expertise, including on new technologies and state requirements. Beefed up roles would better encompass work the BOH deems important functions of the department.
Originally, th0e Board intended to hold off on staffing changes to the next fiscal year in July. They hoped to bring the proposal to Annual Town Meeting this spring. This month, they asked Advisory to support funding changes sooner. They expressed worry about their ability to serve the Town in the near term. 
Over the years, Pisinski shifted from full time to part time, then to half time. Nurse Emily Amico was hired in the spring to work half-time. (Pisinski is meant to be semi-retired and Amico has three children remote schooling from home. Neither wanted full-time hours.) Throughout the pandemic, both have been working about double their expected hours. And Amico's responsibilities have encompassed duties normally handled by a Public Health Director. 
On Friday, Woodford confirmed Amico is resigning. She also indicated that Pisinski is making a change to help the Town. She told fellow Board members that salaries freed up by their resignations, would help fund an interim…


Read More: Public Health "staffing crisis" compounded by funding, red tape, tensions, and