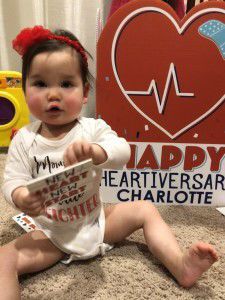 Newswire

Big Dot of Happiness, a party supply company known for creating goosebump moments, is launching the "Heartiversary Collection" after CEO and Founder learned of the story of new-mom-to-be Sonja and her baby, Charlotte, who was born with a congenital heart defect.
"We've been in business for over two decades and have celebrated birthdays, anniversaries, important milestones, and more, but the Heartiversary Collection has special meaning for Big Dot of Happiness," said Sheri Yukel, CEO and Founder of Big Dot of Happiness. "After speaking with Sonja, it became very clear that Heartiversaries are a milestone that millions of people around the world celebrate, yet it is not a commercially recognized Day. We're changing that — these heart warriors have been given a second chance at life!"
A "Heartiversary" is the anniversary of a cardiac surgery and recognizes each year following that another year has passed since the heart warrior was given a second chance to live. The new Big Dot Heartiversary Collection celebrates this Day with signature party supplies, including photo booth props, décor pieces, party swirls, banners, garland, cutouts, drink coasters, yard signs and the signature Big Dot of Happiness Jumborific Card. Prices range from $9.99 to $34.99 and are available to order here on the company website https://www.bigdotofhappiness.com. Further, proceeds from the sale of the collection will go to The Children's Heart Foundation, which funds Congenital Heart Defect Research.


Read More: Heartiversaries features in launch of celebration supply collection | News