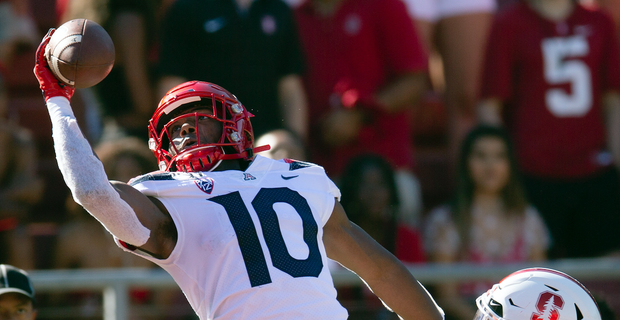 It's no secret that college football games throughout the country have been cancelled, postponed, or rescheduled.
It started with the Arizona-Utah game in what was supposed to be the opening game of the season and then quickly turned into multiple cancelled games for Arizona State and others.
In order to be prepared, the Pac-12 has basically let it be known that each team needs to be ready for a change in schedule should Covid-19 force a change.
For Arizona head coach Kevin Sumlin, Arizona's safety comes first and there are logistics at play as well.
"I personally think there's an amount of time that's necessary to be able to play another opponent," Sumlin said. "Not just from a coaching standpoint but for some other issues, logistics.
"When you go on these road games, when our game was canceled the first week our equipment truck was somewhere past the Grand Canyon. Our shoulder pads leave Thursday night or Friday morning headed to the game that you're supposed to be playing."
There was brief consideration to playing Washington in the first week once the Utah game got cancelled, but it was simply too difficult to do.
"I think it was a little bit different with the logistics between Cal and UCLA," Sumlin said. "For us, the two biggest travel pieces, the longest, are Seattle and Salt Lake City.
"We've got stuff on the truck Thursday night. It's not just the game, but the equipment and a lot of different logistics. Finding hotel rooms, changing the plane, what are you going to eat, how are you going to feed these guys?"
The fact that a game can quickly be changed means that members of the coaching staff are working overtime to prepare for nearly every opponent in the Pac-12.
"Our guys are working around the clock right now, particularly analysts and GAs," Sumlin said. "They're working a week ahead on the next opponent. We actually have discussed every scenario.
"With COVID we have a play-calling plan on both sides, on defense and offense, and special teams. Our guys are breaking down every game from last weekend and getting it in our software so we have that data if something happens.
"Those guys are not just working on next week's opponent, but now they're working on every opponent, between now an Wednesday so if something like that happens, which is not the optimum thing, but if it's something that we have to do to play in the right amount of time we'd have that information."
if(typeof fbq === 'undefined') { !function(f,b,e,v,n,t,s){if(f.fbq)return;n=f.fbq=function(){n.callMethod? n.callMethod.apply(n,arguments):n.queue.push(arguments)};if(!f._fbq)f._fbq=n; n.push=n;n.loaded=!0;n.version='2.0′;n.queue=[];t=b.createElement(e);t.defer=1; t.src=v;s=b.getElementsByTagName(e)[0];s.parentNode.insertBefore(t,s)}(window, document,'script','https://connect.facebook.net/en_US/fbevents.js');
fbq('dataProcessingOptions', ['LDU'], 0, 0); fbq('init', '320233411816140'); fbq('init', '1575186632756631'); fbq('track', 'PageView'); }



Read More: Covid-19 forcing Arizona to be flexible