Thu,
05/06/2021 – 16:07pm | By: David Tisdale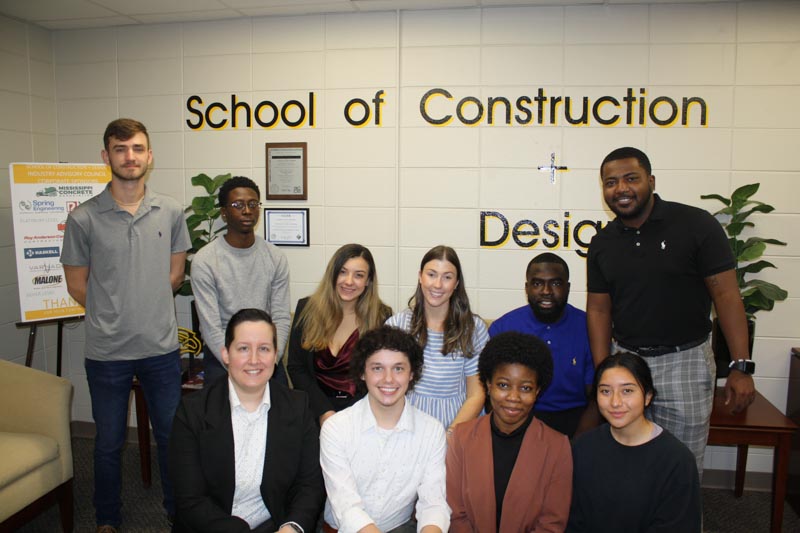 Students presenting at the USM Architectural Engineering Technology Program include,
front row, left to right: Marissa Redmond, Lee Colt, Ogechi Oseji, Jennyfer Caracheo;
back row, left to right: Brandon Prince, Curtis Washington, Karlee Hilliard, Holland
Meier, Zachary Portlock, Antonio Darrington.
Seniors in The University of Southern Mississippi (USM) Architectural Engineering
Technology Program took on a unique project during the 2020-21 school year that allowed
them to work with a client and gain valuable project planning, development and presentation
skills, while also learning about an important, yet troubling, aspect of the state's
early history. 
The project, a proposed design for a potential interpretive center for what was one
of the Deep South's key slave markets in Natchez, Mississippi known as "The Forks
of the Road," was presented to representatives from the National Park Service (NPS)
earlier in the spring 2021 semester. Students in the program were grouped into teams
and paired with architectural experts to present their masterplan option proposals
and other ideas for the site via Zoom for the NPS representatives.
Located approximately one mile east of downtown Natchez, "Forks of the Road" became
one of the South's top slave trading markets during the 1830s and 1840s, with thousands
of men and women sold into servitude there during that time. The market's original
buildings were destroyed by black soldiers during the Civil War; it has since been
home to a cotton warehouse and a residential neighborhood.
For the first two weeks of the project, students conducted background research of
the site and its history. This research was followed by another two weeks working
in groups with architects to create a master site plan which included several components
of the whole site, presented to the NPS representatives.
During the following eight weeks, the students worked on their individual comprehensive
design of an approximately 20,000-square foot, two-three story design for an interpretive
center for the site. At the end of the semester, the program's seniors presented for
the Architectural Engineering Technology program's annual senior studio presentation day April 26, which featured their final touches on the modeling of the
components for the project.
Leffi Cewe-Malloy, coordinator of the Architectural Engineering Technology program,
served as studio adviser and instructor for the project. 
"The comprehensive part of the studio project was to have the students utilize what
they have learned throughout their education in our program, so in addition to the
architectural building and site design, they also had to consider the constructability,"
Cewe-Malloy said. "My intension was to expose the students to all of the aspects of
a project, so that even though they would not calculate the structural or mechanical
load, or even the calculate the cost estimate in their first job, I want them to be
…


Read More: Architectural Technology Program Seniors Reflect on "Forks of the Road" Project