A Word from Legacy
Hello, friends, and welcome to the most recent installment of the Legacy Monthly Shipment, your go-to source for the latest logistics industry news and trends. The dog days of summer are officially at an end, which means back-to-school is just around the corner and holiday season preparations are in full swing — both of which come as welcome news to firms looking to finally balance their inventories.
We start this month's Shipment off — as always — with our Market Update.
---
Market Update
July 2022 Logistics Managers' Index Reaches Lowest Reading Since May 2020
The Logistics Managers' Index (LMI) continued its descent during the month of July, dropping 4.3 points from June 2022 to 60.7 — a reading that indicates healthy expansion within the industry, albeit at a slower rate than in months past.
According to the official report, transportation metrics are the primary driver behind this downward shift. The Transportation Capacity index increased by 7.4 points from last month, achieving a reading of 69.1 — its highest rate of expansion since April 2019. Although high diesel prices — which sat around $5.27 per gallon during the last week of July — have threatened to push smaller carriers out of the market, manufacturers such as PACCAR have successfully increased deliveries of new truck models, enabling larger carriers to expand their fleets. This combination of factors has caused the Transportation Prices index to shift from a state of expansion to contraction, dropping 11.8 points from June's reading of 61.3 to 49.5.
The U.S. Bureau of Economic Analysis reported a 0.9% decrease in gross domestic product (GDP) in Q2 '22. Although consumer spending remained strong during the same period — up 1% on an annual basis — inventory levels were even higher, upsetting this careful balance. With that said, the LMI anticipates that inventories will become more balanced through the second half of the year, as evidenced by decreases in the Inventory Levels (-3.0), Inventory Costs (-4.8) indices. Retail firms' efforts to move inventory, when coupled with the seasonal uptick in sales for back-to-school and the holiday season, should reduce inventory levels even further in the months to come.
Despite the looming threat of a recession, strong job growth and consumer and business spending have kept the U.S. economy afloat, and the increase in international commerce recorded for the month of July has provided cause for optimism. The number of ships idling outside the ports of Los Angeles and Long Beach is substantially lower than this time last year, not because there's less cargo coming into the U.S., but rather because that cargo has been more evenly dispersed amongst ports around the country.
Whether this distribution is the result of lessons learned or a preemptive shift to avoid any potential fallout from West Coast labor negotiations, it has helped mitigate the worst of port congestion — though shippers are still advised to keep a watchful eye on East Coast ports, which are seeing substantially higher cargo volumes than in 2021.
On the warehousing side of things, the Warehousing Capacity index entered its 23rd consecutive month of contraction, rising 6.0 points to a reading of 47.0. Available warehousing space remains well below market demand, as evidenced by Amazon's recent move to open several new multi-million square foot warehouses — despite previously hitting the breaks on its fulfillment center expansion — and plans to open 250 such facilities by 2022.
And Amazon is far from alone: Logistics real estate investment company, Prologis, predicts that warehouse market rents in the U.S. will increase by 25% in 2022. Given this information, it is perhaps unsurprising to hear that both Warehousing Utilization and Warehousing Prices remain strong. Although both indices experienced a slight decrease in July (-0.3 and -2.1, respectively), they remain firmly within expansion territory with readings of 68.8 and 76.2.
For a complete overview of the July 2022 LMI across all indices, please refer to the chart below:
LOGISTICS AT A GLANCE
Index
July 2022 Index
June 2022 Index
Month-Over-Month Change
Projected Direction
Rate of Change
LMI®
60.7
65.0
-4.3
Growing
Slower
Inventory Levels
68.8
71.8
-3.0
Growing
Slower
Inventory Costs
79.0
83.8
-4.8
Growing
Slower
Warehousing Capacity
47.0
41.0
+6.0
Contracting
Slower
Warehousing Utilization
68.8
69.1
-0.3
Growing
Slower
Warehousing Prices
76.2
78.4
-2.1
Growing
Slower
Transportation Capacity
69.1
61.7
+7.4
Growing
Faster
Transportation Utilization
59.3
58.4
+0.9
Growing
Faster
Transportation Prices
49.5
61.3
-11.8
Contracting
From Growing
---
Also in Today's Shipment:
FMC takes first step toward issuing an information-sharing mandate with carriers and terminal operators.
Drivers become restless as pick up delays increase at the Port of Baltimore.
Shippers shift back to ocean transport, spelling bad news for air cargo market.
DOT kicks FLOW supply chain data exchange program into high gear with 18 new members.
In the News
FMC Seeks Public Comment for Emergency Order Requiring Information Sharing
Just over two months after President Biden signed the Ocean Shipping Reform Act (OSRA) into law, it seems as though the Federal Maritime Commission (FMC) intends to make use of its newfound authority.
As a reminder, OSRA strengthens the FMC's enforcement abilities, granting the agency the authority to self-initiate investigations into carrier's business practices and take more aggressive action on detention and demurrage. Although there were concerns amongst shippers that the FMC would be slow to take action, the Commission is considering an emergency order that would require common carriers and marine terminal operators to share information relating to cargo throughput and availability with shippers, truckers and railroads.
The FMC is currently soliciting public comment from supply chain stakeholders to determine the necessity of such an emergency order, based on the following three questions:
Has congestion created an emergency situation of a magnitude such that there exists a substantial, adverse effect on the competitiveness and reliability of the international transportation supply system?
Would an emergency order issued by the Commission alleviate the emergency situation?
What would be the appropriate scope of an emergency order issued by the Commission?
Should it be issued, the emergency order would remain in effect for 60 days (unless renewed).
The conversation about an emergency order could not come at a more opportune time. Although shipments have been more evenly distributed at ports around the country than in years past, there has been a substantial increase in cargo volumes at East Coast ports, which has led to congestion in the Ports of Charleston, Savannah, NY and Baltimore. The Port of Baltimore, in particular, has seen an increase in both cargo volumes and terminal wait times, leading to unrest amongst truckers (more on that momentarily).
The FMC's official deadline for public comment submission is set for September 10, at which point the Commission will make a formal decision.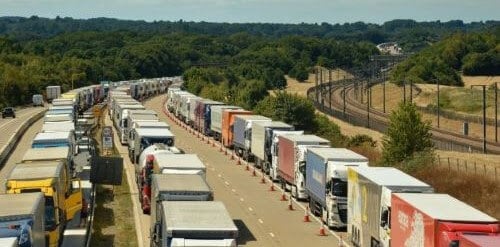 Baltimore Port Truckers Demand Fair Compensation for Idle Time
The Freedom Convoy, the People's Convoy, AB5 and now Baltimore — summer 2022 has been characterized by a slew of trucker protests. The latest of these protests took place on August 11, when a group of dependent truck drivers picketed outside the Port of Baltimore's container terminal, calling for an end to pick up delays and the establishment of a process for filing grievances.
According to a report by Ngan Ho for the Baltimore Sun (reposted in the Frederick News-Post), truckers claim that they've been forced to wait hours for port workers to load a single cargo container onto their vehicles. Since drivers are contracted per container rather than paid on an hourly basis, they aren't compensated for the idling time — nor for the fuel expended while they wait for shipments to be loaded.
"I love my job. I love what I do," said John Richardson-Allaire, the independent owner and operator of Turnpike LLC. "[…] but the one thing about my job that I hate is coming here. I hate this place. We're the only ones asked to work for free. It comes down to management."
Protestors also claimed that Ports America Chesapeake — which has exclusive operating rights for the Port of Baltimore's Seagirt Marine Terminal — has banned drivers for challenging management's rules. "They've got all the power," Richardson-Allaire said. "There's nothing you can do. We've got no one to file grievances with."
For its part, the Maryland Port Administration (MPA) attributes the delays cited by protestors to the dramatic increase in vessel calls and cargo volumes at the Seagirt Marine Terminal over the past several months. According to an official release from MPA spokesman Richard Scher:
"This increase in volume has put pressure on all aspects of our supply chain, workforces, and region, leading to significant increases in dwell times, import and empty container volumes, and equipment shortages. The Port of Baltimore has benefited from this shift in cargo with additional volumes, services, and new rail business. During this time, Ports America Chesapeake and the Maryland Port Administration remain focused on accommodating current and future cargo demands at Seagirt Marine Terminal."
Data from Freightwaves' SONAR report confirms that Baltimore has shifted from a backhaul to a headhaul market, with a 14.8% increase in outbound tender volumes — an increase that has caused rejected rates to reach 11.9%. Given these figures, all parties — the Maryland Port Administration and protestors alike — can agree that delays exist, but the question remains whether drivers should be compensated for the additional time spent awaiting shipments. That's a question that will take time and negotiation to answer — and, until it is, we can likely expect to see truckers continue to let their grievances be known.
Air Cargo Volumes Fall 9% YoY as Demand Decreases
The air cargo market has been on a steady decline since March thanks to a challenging combination of factors, including the ongoing Russian invasion of Ukraine, inflationary pressures on consumer spending and airline staffing shortages. According to CLIVE Data Services — a data provider owned by Xeneta — July air cargo demand dropped by 9% year-over-year and the dynamic load factor slipped eight percentage points from last year to 58%.
"There are many dark clouds hanging over the air cargo industry given the state of the world right now," said Niall van de Wouw, Chief Airfreight Officer at Xeneta. "Volumes are subdued, and while air cargo rates are still elevated, they are slowly but surely easing back towards pre-COVID levels. From a rates point of view, indicators suggest that the market has yet to bottom out."
But van de Wouw's statements don't tell the whole story — as reported by Max Garland for Supply Chain Dive, the air cargo market's decline likely has just as much to do with easing congestion along more affordable ocean freight shipping lanes. According to Sea-Intelligence data, global schedule reliability improved to 40% in June 2022, marking the first time since the beginning of the pandemic that scheduled reliability improved YoY. Ports in China have also resumed normal operations following protracted COVID shutdowns, and congestion has lessened along the U.S. West Coast, creating further incentive for shippers to commit to ocean transport.
Despite the appeal of faster shipments, air cargo rates haven't fallen fast enough for most shippers to justify the cost — and now, supplier delays caused by airline staffing shortages threaten to eliminate even that remaining advantage. Dark clouds, indeed.
White House FLOW Data Exchange Pilot Program Adds 18 New Members
In March 2022, the Biden-Harris Administration created Freight Logistics Optimization Works (FLOW), "an information sharing initiative to pilot key freight information exchange between parts of the goods movement supply chain." The FLOW pilot program initially included 18 participants, including port authorities, ocean carriers, terminal operators, logistics companies and more, tasked with building a National Freight Data Portal for global supply chain data exchange — and now, according to a report from the U.S. Department of Transportation (DOT), the program has doubled in size.
As of August 10, FLOW has added 18 new members:
Shippers: Becton, Dickinson, and Company; Protect & Gamble; Samsung
Carriers: BNSF, C&K Trucking, DHL, Hapag-Lloyd, J.B. Hunt, Maersk, RoadOne, Werner Enterprises
Ports & Port Services: APM Terminals, Consolidated Chassis Management, TRAC Intermodal, TraPac, West Basin Container Terminal, Yusen Terminals
Brokerage & Warehousing: Flexport
As reported by Supply Chain Dive, the membership expansion is noteworthy for its inclusion of a rail carrier. The absence of any rail carrier representation in FLOW's original lineup — which includes the likes of Target, CMA CGM, FedEx, the Ports of LA and Long Beach, True Value and Prologis — was noted by legislators and called into question by Senator Roger Wicker, a ranking member of the Senate Committee on Commerce, Science, and Transportation.
The program is expected to expand even further in the months to come, adding new members throughout the supply chain.
---
Thank you for joining us for yet another Monthly Shipment. If you'd like to get caught up on past Shipments or are interested in even more industry insights, why not visit our blog or resource center, or talk to one of our experts?
We hope to hear from you — but, if not, we'll see you here next month. This is the Legacy crew, signing off.