As per UK Government guidelines "If you transport dangerous goods by air, sea, road, rail or inland waterway, you must pack and transport them according to international regulations".
Seems fairly obvious, right? You might be surprised however at exactly what items are classified as being dangerous. Radioactive materials, explosives and infectious substances are probably what spring to mind, but under IATA DG (International Air Transport Association Dangerous Goods) Regulations any products containing lithium batteries (think phones, laptops and rechargeable cameras) are also considered to be dangerous, as well as oil based paints, perfumes and aerosols.
We specialise in providing freight forwarding solutions for all forms of freight, including shipping documentation, customs clearance and storage, and as an IATA accredited company we are permitted to transport certain hazardous materials and dangerous goods by air.
With more than 30 years industry experience we have the knowledge and expertise required to navigate transport regulations, ensuring that your goods are forwarded without unnecessary delay and disruption. Call us today on 01293 554620 and speak to one of our friendly team regarding your shipping requirements.
What are dangerous goods?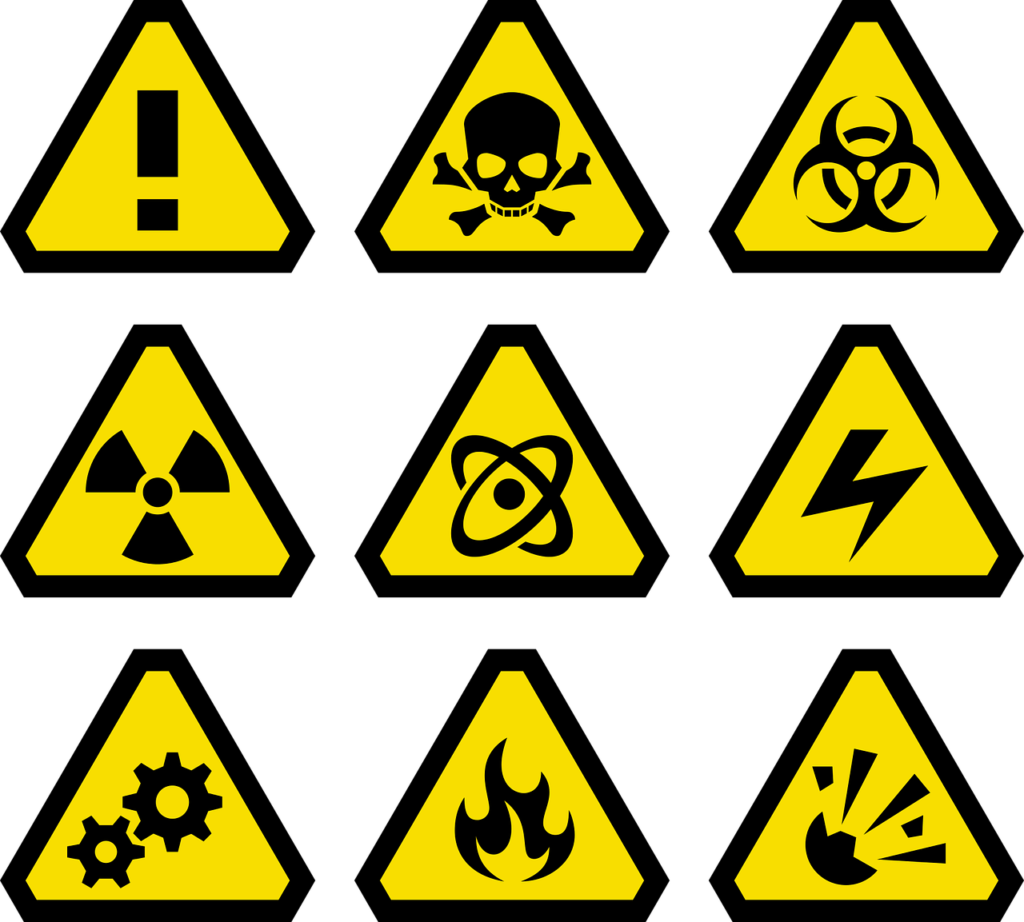 "Dangerous goods, abbreviated DG, are substances that when transported are a risk to health, safety, property or the environment. Certain dangerous goods that pose risks even when not being transported are known as hazardous materials (syllabically abbreviated as HAZMAT or hazmat)". [¹]
The UN classifies dangerous goods in the following classes and, where applicable, divisions:
Class 1: Explosives
Class 2: Gases

Flammable gas
Non-flammable, non-toxic gas
Toxic gas

Class 3: Flammable liquids
Class 4: Flammable solids

Flammable solid
Spontaneously combustible substance
Substance which emits flammable gas in contact with water

Class 5: Oxidising agents & organic peroxides

Oxidising substance
Organic peroxide

Class 6: Toxins and infectious substances

Toxic substance
Infectious substance

Class 7: Radioactive material
Class 8: Corrosives
Class 9: Miscellaneous dangerous goods
How do I know if my goods are dangerous?
In most circumstances dangerous goods will display a 'Hazard Pictogram' (as displayed above) identifying it as a dangerous substance, including classification of the relevant division.
It is also in most circumstances possible to obtain a safety data sheet (SDS) from the manufacturer which will include transport information identifying whether or not it is considered to have dangerous or hazardous properties.
According to transport regulations it is in all circumstances the responsibility of the consignor (sender) to correctly identify and declare dangerous cargo. Ensure your goods are properly classified before you ship them to avoid expensive charges and delays.
How do I ship dangerous goods?
In the instance that you assume responsibility for dangerous goods shipments you will need to:
Clearly understand any relevant regulations which may apply
Rules concerning packaging, labelling and documentation may vary dependent on the form of transport so it is important to know which mode of transport will be used by your intended carrier.
Ensure that you have received any relevant training
It is your responsibility as the sender to understand whether you are obliged to carry out any necessary training courses in order to transport your shipment.
Correctly classify, package and declare your shipment
It is your responsibility as the sender to correctly identify, classify, declare, package and label goods in accordance with regulations for both the country of origin and destination.
Obtain any relevant permissions, labelling and documentation
It is your responsibility as the sender to correctly identify and obtain any relevant and necessary permissions and documentation required for customs clearance and onward transport.
We strongly recommend employing an accredited freight forwarding company for your dangerous goods shipping requirements. We have more than 30 years experience coordinating global freight, transporting dangerous goods, and have an expert technical knowledge of importation and exportation requirements and the know how to ensure that your goods are transported safely and effectively.
Ship your dangerous goods globally
Over our 30+ years we have won acclaim and approval from industry-leading Associations and are delighted to be members of the following:
IASA – The International Air and Shipping Association. Membership is exclusive to those who have been invited and passed the rigorous application process. There can only be one member per country.
BIFA – The British International Freight Association. BIFA provides a set of Standard Trading Conditions that ensure security, integrity and expertise. They also offer training in all aspects of freight.
IATA – The International Air Transport Association. The trade association for all airlines across the world. Only IATA certified companies can transport certain, hazardous and dangerous goods in the air.
AEO – Authorised Economic Operator. This demonstrates that our procedures, custom controls and supply chain are secure, efficient and compliant, as tested and approved by HMRC.
For a free, no obligation quote freight forwarding requirements contact us today on 01293 554620, or complete our online contact form and we'll be in touch.