What we now recognise to be shipping containers didn't exist before 1956. In fact, before the standardisation of the modern shipping container, a myriad of crates, pallets, boxes and barrels of varying shapes and sizes were used for shipping goods across the world. This was a costly and highly inefficient approach.
During the 1950s this all changed with a sleek box-style container being introduced alongside mechanical loading and unloading, now more than 60 years since the inception of the shipping container an estimated 11 billion tonnes of goods are transported by ship every year.
To find out how Seaspace can help your business with freight forwarding, call us on 01293 554620, or email us at info@seaspace-int.com.
Do you know…?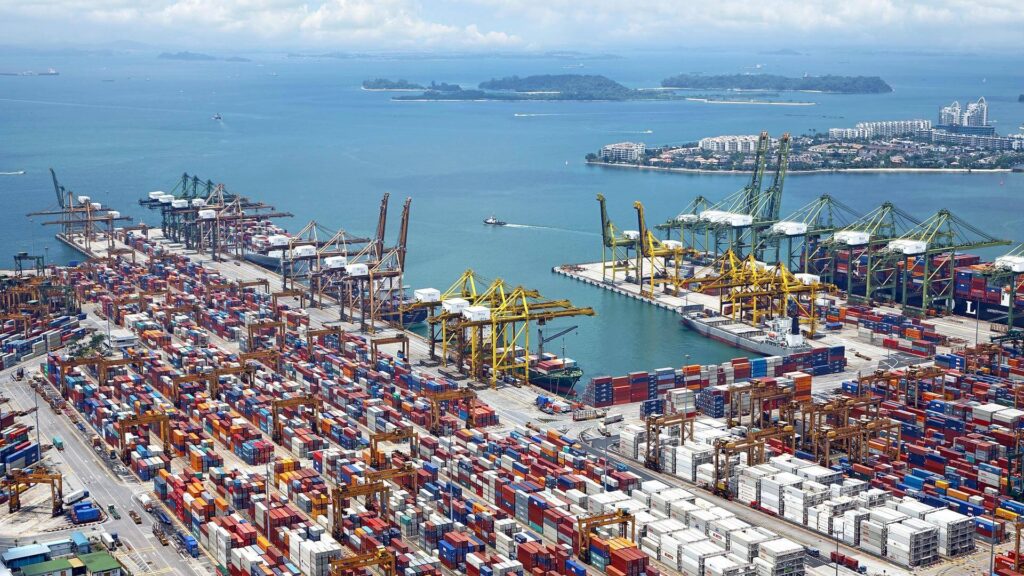 Who invented the shipping container?
Malcolm McLean is a name synonymous with shipping containers and global goods transportation, but he did not birth the idea of the shipping container alone, in fact, the idea was the joint venture of McLean and engineer and inventor Keith Walton Tantlinger. Tantlinger played a key role in the process of container standardisation, working extensively alongside the American Standards Association (ASA) and the International Organisation for Standardisation (ISO).
His designs included the corner casting and Twistlock systems found on every intermodal container, and he was the holder of 79 patents throughout his professional career – all related to the equipment designed for transporting goods.
How many shipping containers exist globally?
Whilst there is no accurate data showing exactly how many shipping containers exist globally, conservative estimates suggest that there may be around 17 million intermodal shipping containers currently in circulation while others estimate that there may be as many as 530 million shipping containers! (source).
How many shipping containers are on the move at any one time?
Roughly 90% of all traded goods are transported by sea, and at any one time, it is estimated that there are as many as 20 million shipping containers on the move! (source).
Where are shipping containers made?
Due to a combination of low labour rates, low taxes and duties, and the fact that much of the world's goods are also made there, roughly 97% of new shipping containers are manufactured in China – a country that is known by many as "the world's factory".
What are shipping containers made from?
Shipping containers are made from steel, more specifically COR TEN (or corten) steel. Known as weathering steel, it was designed to eliminate the need for painting despite shipping containers' enduring extended exposure to weather and harsh conditions.
The wooden floor of a shipping container is typically made from heavy-duty wood such as plywood, in most circumstances Keruing and Apitong are used due to their high resistance to temperature and humidity.
How long do shipping containers last?
If properly cared for and regularly maintained there is no reason that shipping containers shouldn't last for as long as 25 years. Many shipping containers are used for freight forwarding purposes for just a fraction of this time, and without exposure to the harsh conditions of the open seas may last even longer.
Who owns shipping containers?
Nearly all of the shipping containers in existence are owned either by a shipping line or by a container leasing company. A small percentage of shipping containers are owned by the shipper. The owner of any given shipping container is dictated on the side of the container.
How many shipping containers are 'lost at sea' every year?
Despite continually improving procedures and safety measures every year a number of shipping containers are lost at sea. Causes of shipping container losses include 'severe weather and rough seas to more catastrophic and rare events like ship groundings, structural failures, and collisions'. According to the World Shipping Council 'the average losses for the two-year period 2020-2021 were 3,113 compared to 779 in the previous period'.
How large is the largest shipping container port?
We looked previously at the importance of sea ports for international trade, identifying the key role they play in the transportation of $7 trillion worth of goods annually. The port of Shanghai became the busiest seaport in the world in 2019.
It handles a staggering 43.6 million TEUs (twenty-foot equivalent units) of cargo volume (or 542.46 million tonnes of cargo) per year. The port encompasses an area of 3,619.6km² and is situated at the mouth of the Yangtze River.
What does TEU stand for?
TEU is a logistical acronym for 'Twenty Equipment Unit'. In layman's terms, it describes a twenty foot (20 ft) shipping container. Additional sizes of container such as a forty foot (40 ft) shipping container is described either as a '2 TEU' or 'FEU' (Forty Foot Equivalent Unit). Containers of 45, 48 and 53 feet in length correspond to 2.25 (or 2), 2.4 and 2.65 TEUs, respectively.
How are shipping container signature numbers generated?
You've probably noticed the numbers on the side of a shipping container at some point in your life. But what do they mean, and how are they generated?
The four letter, seven digit alpha numeric sequence is the container number. This is generated by International Standards Organisation and signifies:
The first three letters: the owner of the shipping container
Fourth letter: the equipment category, ie 'U' signifies that it is a freight container
The first six numbers: the serial number
The seventh number: the check digit
The other markings on shipping containers indicate:
Maximum weight including the weight of the container itself
Tare weight of the container
Maximum packed weight
Maximum packed volume
CSC plate and other certifications
How are shipping containers loaded?
As you might imagine, specialist equipment is required to move shipping containers from port to ship. This can be done by one of any number of specialised rigs – from straddle carriers and port cranes to container lifting jacks and forklifts.
What else are shipping containers used for?
You can find disused shipping containers for sale everywhere, often destined to be repurposed for a wide variety of applications. Such as:
Housing
Commercial shopping facilities
Restaurants
Storage containers for secure storage
Medical facilities
Art galleries and exhibition spaces
We looked at some of these uses in a number of our previous posts:
'Innovative And Creative Ways To Reuse Old Shipping Containers'
'Shipping Container Businesses: Small Businesses You Can Start From A Shipping Container'
'Top 10 Inspiring Shipping Container Homes'
'Shipping Container Transformations – Instagram Accounts We Love'
Get in touch for worldwide shipping
With more than 30 years of industry experience we are perfectly placed to assist you with all of your freight forwarding requirements. We are IASA, BIFA, IATA and AEO accredited, and our services include but are not limited to:
Sea and air freight
Customs clearance
Warehousing and order fulfilment
Freight consultancy services
We pride ourselves on our excellent service. If you'd like to know more about how we could help with your business's supply chain call us today on 01293 554620.